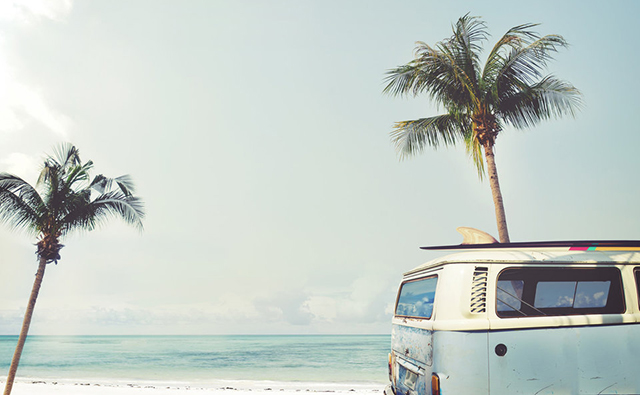 Apps for iPhones have hit the street in a big way with no signs of letting up. A quick trip to Apple's iTunes store will show an unbelievable inventory of apps covering almost anything you can think of, and then some! The WSL app for surfing, downloaded nearly two million times to date, delivers competitive series such as the Men's and Women's Championship Tours.
For those that develop the iPhone/iPod apps that have become an industry in itself, the market is twofold: 1) those that might use the apps for their personal enjoyment and 2) those that could benefit from the marketing potential of such applications such as through banners and viral incentives.
One developer has capitalized on the combined potential of an iPhone app by offering both a unique game as well as the ability to send Ecards to others via the iPhone technology. Bobblehead Hawaii offers users the opportunity to take a picture of themselves then place their "head" into the very game they are about to play, in this case a surfing game!
Bobblehead Hawaii users can customize their "heads" from a collection of hats, bodies, and scenic backgrounds (from Hawaii, of course!) and, if desired, send out a wacky Ecard of their new creation within moments. Many users, enjoying the Ecard function so much, might even forget the hilariously challenging surfing game which they had intended to play in the first place!
Bobblehead Hawaii's Ecard creation/sending capability belies its potential for viral marketing to advertise corporate products and services. By customizing the game and others like it the creator, Pooka Pooka, Hawaii, offers advertisers an unparalleled opportunity to spread their message via app users. Unlike traditional print and broadcast media which offer sharp ramps in viewership followed by immediate drops, the viral aspect of user-transmitted information actually grows over time.
In an APP development field that could be a highly expensive arena with graphics and programming costs, Bobblehead Hawaii's approach utilizes a fun appeal (simpler graphics and programming) to keep costs reasonable while still offering high user appeal. It's a combination that will appeal to gamers as well as advertisers!
The developer of Bobblehead Hawaii, is also the creator of the Tsunami Surf Simulator, a virtual surfing game in which the player controls the onscreen surfer from a real surfboard. The idea of creating an iPhone app was a natural evolution for the company having created games used both for trade shows and special events.
By incorporating sponsor advertising within the games, such as on backgrounds and vocal messages, Pooka Pooka, Hawaii appealed heavily to a corporate marketers such as Cisco, BMW, IBM, and a number of other just-as-notables. It's newest product, Bobblehead Hawaii, is simply an extension of that venue to the iPhone/iPod market with the added viral potential made possible by the game's Ecard creation/sending capability.
In addition to their functional appeal, these both Bobblehead Hawaii and the Tsunami Surf Simulator capitalize on the natural aura that is Hawaii – something that's certainly a big point in their favor to both players and advertisers alike!
Richard Young is a Hawaii real estate professional with a background in advertising and marketing. He is the creator of Hawaiibeachcombers.com, a website that generates considerable traffic due to its high standings in Google and other major search engines. The story of how he came to build his website and the single source that helped him develop a concept into a viable online business is told in Build-A-Website That Generates Traffic.
Article Source: http://EzineArticles.com/expert/Richard_Young/36423
Article Source: http://EzineArticles.com/6475882