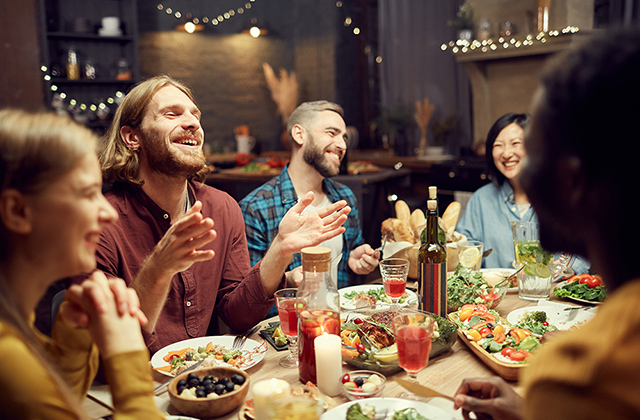 While it may seem like a daunting task, the following tips will help your business stay ahead of trends and on budget for events. The way to stay trendy and on budget varies with the type of event. Your corporate activities ideas can spark new relationships, create lasting partnerships, and set the tone for future success.
Structured Networking
Long gone are the days when people at networking events raced to each other to meet the ever important goal of swapping business cards. At today's more structure networking events, you may nominate team members to come up with topics suited for the event. Interested guests then gather at the table where their topic is located and discuss it further. This trend saves time and money because people don't have to spend time "hunting" for the right person and conversation.
Annual Corporate Events
The traditional yearly corporate event celebrates the success of the company's past year. This does not, however, imply that your company has to pay for every celebration throughout the year. Save money by empowering smaller divisions and even individuals in the company to create their own celebrations. Encourage these smaller events to be "green-friendly." Remind party hosts that people are more health and environmentally conscious these days. If the host decides to get a caterer for their event, have them get one that offers small portions of healthy, inexpensive fruits and vegetables. When it is clean up time, encourage hosts to use environmentally friendly cleaning products that often last longer than regular chemical cleaners.
Offshoots of Traditional Corporate Events
There are other types of corporate events that will also save your company money. Holding a joint event with a charity, or hosting a picnic where company members bring their own food save companies money. In the case of the charity event, while the company may help the charity raise money, the company still earns valuable goodwill from the partnership; which often turns in to company profits.
Cutting Costs the Old-Fashioned Way
Below are some tried and true methods of cutting costs for corporate events.
Hold meetings at the office rather than a five-star hotel
Don't serve alcohol at the event
Choose a caterer wisely
Cutting Costs in Newer Ways
Using bite sized portions for food- the size of the food cuts down on staff costs, which leaves room in the budget for "fancier" food or jazzed up versions of old favorites.
Party Decor- have everyone pitch in with set up and tear down to save money (you won't have to hire a decorator)
Utilize the expertise of an event planner. Many of them are familiar with budget friendly venues, caterers and decor. If you don't have an event planner on staff you can find one on an online B2B directory.
However you decide to pare down your corporate event, remember to keep it fun and trendy. That way no one will even notice that your event was "on a budget."