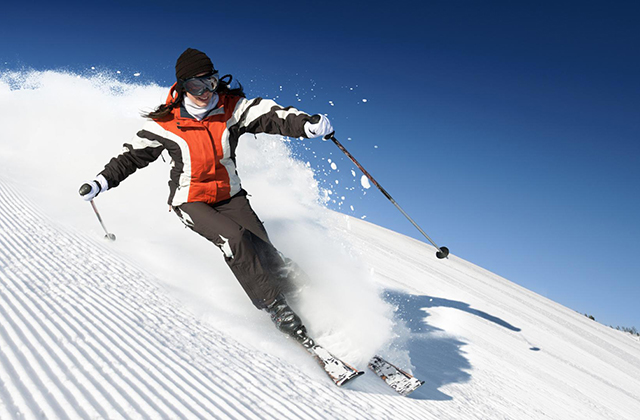 I hear a lot of good feedback about Big White it is really a good venue for ski Canada. Advanced planning is important if you want to get maximum enjoyment from a snowsports holiday, both in terms of selecting which resort and accommodation to choose and also in getting yourself ready physically so that you can enjoy your time on the slopes.
In terms of resort selection, a number of factors play a part and budget is a key influencer. Some resorts have a reputation for being more expensive than others. Places like St Moritz, one of the oldest ski resorts of all and Klosters, which has been favourite amongst celebrities and royalty over the years may be out of reach to many people, who will opt for more cost effective locations. Accommodation selection also presents an opportunity to control the cost of a holiday. From a fully inclusive stay in a five star hotel, through the popular choice of a catered chalet, to a self-catering apartment, there are options for everyone. Currency exchange rates can also be a big factor. The Dollar and Euro exchange rates are slowly improving for UK skiers and snowboarders, whereas last year they increased the price of lift passes, in-resort equipment hire and eating out. Travel operators, of course, negotiate and fix the prices of their packages well in advance, so further improvements in exchange rates may not necessarily be passed on holidaymakers. Opting for a country outside of the Eurozone is another opportunity for saving money. The Swiss Franc follows its own course in terms of value and Bulgarian ski resorts are still priced in the local currency of the Lev. In 2009 Slovakia adopted the Euro, so prices for its popular resorts like Latras, Fatra and the Orava region could be slightly higher this year.
Next comes the question of equipment and what to wear. For those whose finances allow, it is very tempting to go out and treat yourself to the latest in fashionable alpine clothing. There are some very nice technical items out there that both look good and will keep you warm in all weather conditions, but fashions do change so you may not want to spend a fortune on something that could only be worn for one week of the year and may look dated in a couple of seasons time. The decision whether to buy or hire equipment follows the same argument, but with even more considerations to make. As well as the expense of buying your own equipment, which you need to carry with you as you travel to your snow resort and maintain yourself, equipment styles and innovations come thick and fast. For the one week-a-year skier or snowboarder the arguments for hiring in your resort are quite compelling. Hire outlets can usually afford to renew their stock each season, so although you may not have access to top of the range models, you will at least be getting fairly recent equipment that is maintained and fitted by experts, and of course you don't have to lug it through the airport and back again afterwards. For beginners damage is another factor, depending on where you ski or snowboard and your ability, you may or may not cross areas of ground that can damage your prize snowboard or new set of carvers. Almost everyone will generate a few scrapes and cuts on their equipment during a holiday, but that wear and tear is little worry if you have hired your kit.
The next challenge is getting yourself ready for a week of exertion. How is your body going to stand up to a full week or longer of fairly intense physical exercise? Unless you intend just sitting around soaking up the alpine sun and sampling the Gluhwein, there are going to be some unusual stresses and strains placed on your body which, if you rarely take regular exercise, can soon start to have an effect. As well as the cardio-vascular demands on your body, knees can be vulnerable areas if your legs are not used to physical effort and there is bound to be a fall or two to contend with, no matter how competent you are.
If makes perfect sense to start preparing your body for the effort come by getting into an appropriate exercise routine for at least a few weeks before your trip. Another great way to get ready for your trip to the slopes is to visit one of the new indoor snow centres, where you can remind your body of the challenges, and enjoyment, to come. You can also take advantage of some pre-holiday ski or snowboard instruction. There's probably no better way to ensure you have a great holiday than to have a few refresher lessons on real snow close to home to blow away the cobwebs and set yourself up for a running start once you arrive in the mountains. The latest indoor facilities, like The Snow Centre close to London, have long slopes covered in real snow that simulate perfect outdoor conditions. They use snow cannons to generate fresh snow for the slopes every night and even have the same type of button lifts used in many resorts. After a short course of reminder lessons and a few hours of snow time, you'll be perfectly prepared to hit the first day of your holiday with all the confidence to get the most out of it and have a great time.
An indoor ski school is a safe and convenient way of preparing for your next skiing holiday. This review looks at what they can offer and why they are growing in popularity.
Article Source: https://EzineArticles.com/expert/Mark_Bartley/416392
Article Source: http://EzineArticles.com/3116336